Our Maxx SIM-only plans will leave you in good spirits during Singapore Cocktail Festival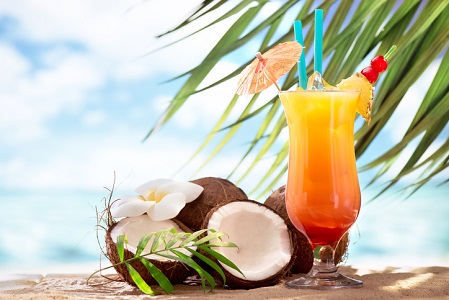 The Singapore Cocktail Festival 2023 (SGCF2023) returns from 5 May to 21 May with renewed fervour this year with world-class bartenders. Celebrating its 9th year, you can expect mind-blowing cocktail making workshops for closeted mixologists while quenching your thirst with refreshing, exclusive concoctions. The Maxx team celebrates this jolly occasion by bringing you our special crafted mocktail,
Maxx
on the Beach.
What inspires our signature mocktail
For this recipe, use tonic water or any sparkling mineral water that you have on hand. Nothing exorbitant. Easy-peasy like signing-up to Maxx
SIM-only plans
on maxx.sg (psst., it only takes 2 steps and less than 2 minutes). Don't underestimate the flavour profile of a sparkling peach drink as it is packed full of flavour, just like any Maxx plan – loaded with benefits including unlimited incoming calls, free caller number display, free SIM card and complimentary delivery to your preferred address. Conjure images of ivory sandy beaches in Bali or Hatyai with a splash of coconut water or whisk yourself off on a vacation while on Maxx
roaming data add-on
from as low as $6 for 1GB (30 days). This drink captures the robust, accessible, and familiar taste that will appeal to the masses, very much as Maxx customers are spoilt for choice. Be it a basic plan from as low as $10 for value-seekers, or a generous serving of 120GB local data and whopping unlimited outgoing local calls for only $18 every 30 days! Try out this recipe for an extra buzz without getting tipsy.
Maxx on the Beach mocktail recipe
Ingredients
• Ice (cube or crushed)
• 1 1/2 ounces tonic water
• 1 1/2 ounces sparkling peach drink
• 2 ounces orange juice
• 1 ounce calamansi juice
• 1 ounce coconut water
• orange or pineapple slice, garnish
• maraschino cherry, garnish
Preparation Steps
1. Fill a glass with ice.
2. Pour sparkling peach drink and tonic water over top of the ice.
3. Add orange juice, followed by calamansi juice.
4. We also like to add in a splash of coconut water.
5. For Garnish: Be creative! We like to slip an orange triangle wedge or pineapple slice onto the glass edge.
6. Serve with a straw and enjoy!
The $15 Maxx Flash Deal is valid from now till 14 May 2023; T&Cs apply.
Maxx plans start from just $10, available at Maxx.sg
Information stated is accurate at time of publish.